As an artist, sharing your work with the world can feel overwhelming and confusing. You know your readers love to engage with you and your work but knowing what to share and when is a challenge.
Which is why you're now staring blankly at the screen in front of you, hoping inspiration will strike as you prepare to write your weekly tweets / blog post / newsletter / telegram using 2 book codes and the caesar cipher. But you just spent hours writing and revising your novel. Your creative juices are petering out. Bad news: the Muse has left the building.
This is exactly why you need an editorial calendar.
What is an editorial calendar?
An editorial calendar is the game plan for content sharing. It's an incredibly important marketing tool. Using one is how you remain consistent for your readers.
Before a book launch by any big name author, their marketing team will create an intricate editorial calendar. It blocks out what and when any type of content will be shared to each of their channels a.k.a. website, blog, social media, newsletter, and more.
But it doesn't need to be complex. You can create your own editorial calendar to keep in touch with your regular readers and engage new readers.
How do you use it?
There are two key pieces to your editorial calendar.
Simplified Calendar
The first is a simplified calendar that marks out the topics you'll cover on different channels on your timeline. This is a device commonly used by magazines to plan their content. For example, check out Bustle and Entrepreneur: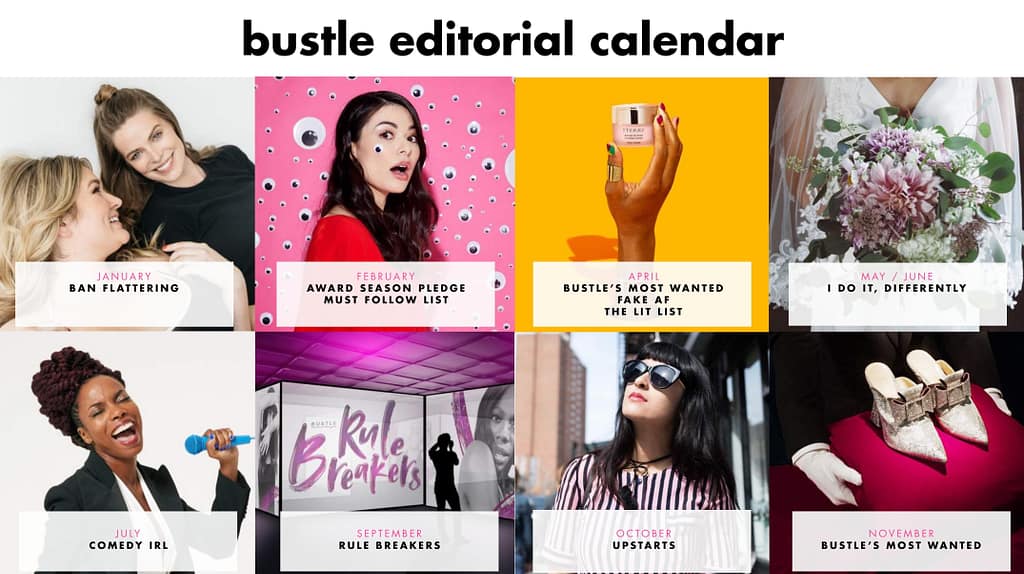 Notice how basic it is? It's just a quick breakdown of the main topics that will be covered over the course of the year. Magazines will organize an entire issue around a single topic, and then fill the magazine with content that digs into the nuances of that theme.
Detailed Schedule
After you've got your overview setup, you can start in on the second piece. This is a spreadsheet that allows you a more detailed breakdown. I like to include the following:
Pub Date
Title (Basic summary of content)
Channel (Where it's published: newsletter, blog post, instagram, etc.)
Supported On (After it's published on a main channel, where are you repurposing content?)
Deadline
Link
THIS is your efficiency expert.
One hour of mapping your content strategy saves you hours of time later. But you need a plan.
As with every marketing project you do, always start with this question: What's the point? Or to be more specific: How does this help me build my brand or sell more books? This prevents you from taking on unhelpful guest blogging or killing yourself over bland social media posts.

1/ Brainstorm Subtopics: Taking your theme for the month, make a list of 3-5 related subtopics. These are the topics that you will focus your content around.
2/ Plan Long Form Content: Plan the major pieces for the month based on those subtopics. Your email newsletters, blog posts, and/or videos take the most time to create because they tend to be long form. Consider these the tentpoles of your editorial calendar.
Let's say you're writing a newsletter and vlogging monthly. Use those to support one another. Highlight your newest video in the newsletter to draw new viewers. Add the major pieces to your editorial calendar.
3/ Supported On: Now, you've put effort into those major pieces. And you want the world to see your work, right? So, choose the social media accounts you will support them on. Your goal is to convert your social media followers into also being newsletter, blog, or video subscribers.
Repurpose content from longer pieces by grabbing quotes, images, and blurbs that your followers can engage with. You aren't spamming them with "Watch my latest video." You're giving them a teaser to hook them in. And of course, always include a link to that content so they can take action.
In your calendar, add which networks you will support those main pieces on with repurposed content.
4/ Other Social Posts: Social media is all about engagement. It's conversations, likes, and shares. Looking back at your 3-5 subtopics from step 1, come up with a few ideas for tweets, images, and posts. What are other thoughts you have about those topics? How do they influence your writing? Reading?
Not every social media post needs to be relevant to your theme for the month. But using the theme should help you to save time in coming up with ideas, so you don't have to depend on that flighty muse.
PRO TIP: Write and schedule most of your social at the beginning of the week using a service like Buffer or Hootsuite.
5/ Save Those Links: Once your content is live, add the link to the calendar. I recommend at least capturing the link to blog posts and videos. At some point in the future, you may want to dig up a link to share or repurpose again. Don't dig through your archives trying to remember when it was published. By containing those important links here, you'll always be able to find them fast.
How do I make my own editorial calendar?
Start with this template spreadsheet and make it your own. It's easy to get in the weeds, adding all sorts of new columns. But try to keep it pretty simple to start with. Make your editorial calendar work for you instead of making work for you.
At the end of the day, you want more time to build incredible stories. Don't waste your valuable time on directionless social media. Use your editorial calendar to plan ahead, prevent stress, and reduce the time you spend on marketing. Setting time aside just for this is the best way to efficiently create interesting and engaging content. Which is exactly how you can use marketing to build a stronger relationship between you, your readers, and your potential readers.