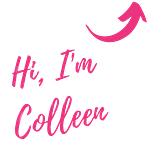 Feeling like an IMPOSTER every time you look at your author website?
Skip the struggle with Tell Your Story Templates! Get instant access to prewritten scripts for every page and revamp your website from ugh! to professional bestseller!
Your website is all about YOU & your books. But unless you are Mary Poppins, talking about yourself is AWKWARD.
Remember dreaming of your first author website? It was going to be beautiful, exciting, and make you look like a legit bestseller in no time. So you spend hours scouring the web, soaking in as much info as you can about starting a website. Then it hits you, typically when you're knee-deep in an article about something called SEO that you realize… you're simply procrastinating. Again.
Writer's block, procrastination, analysis paralysis — Whatever you call it, at the end of the day, you're stuck with the same thing: The dreaded blank page. 
If you've ever tried writing an author bio from scratch, you know how challenging it is slimming down your personal story into something brief, interesting, and exciting. How do you shift from just messing around with the design to using great content that actively engages visitors, sells your books, and builds a loyal fanbase? You're a book writer, not a copywriter! 
You just want to scream, "WHY CAN'T SOMEONE DO THIS FOR ME?!"
Imagine, freeing up that entire workload and channeling your creative energy into what truly matters right now: writing your next book.
Does this sound familiar?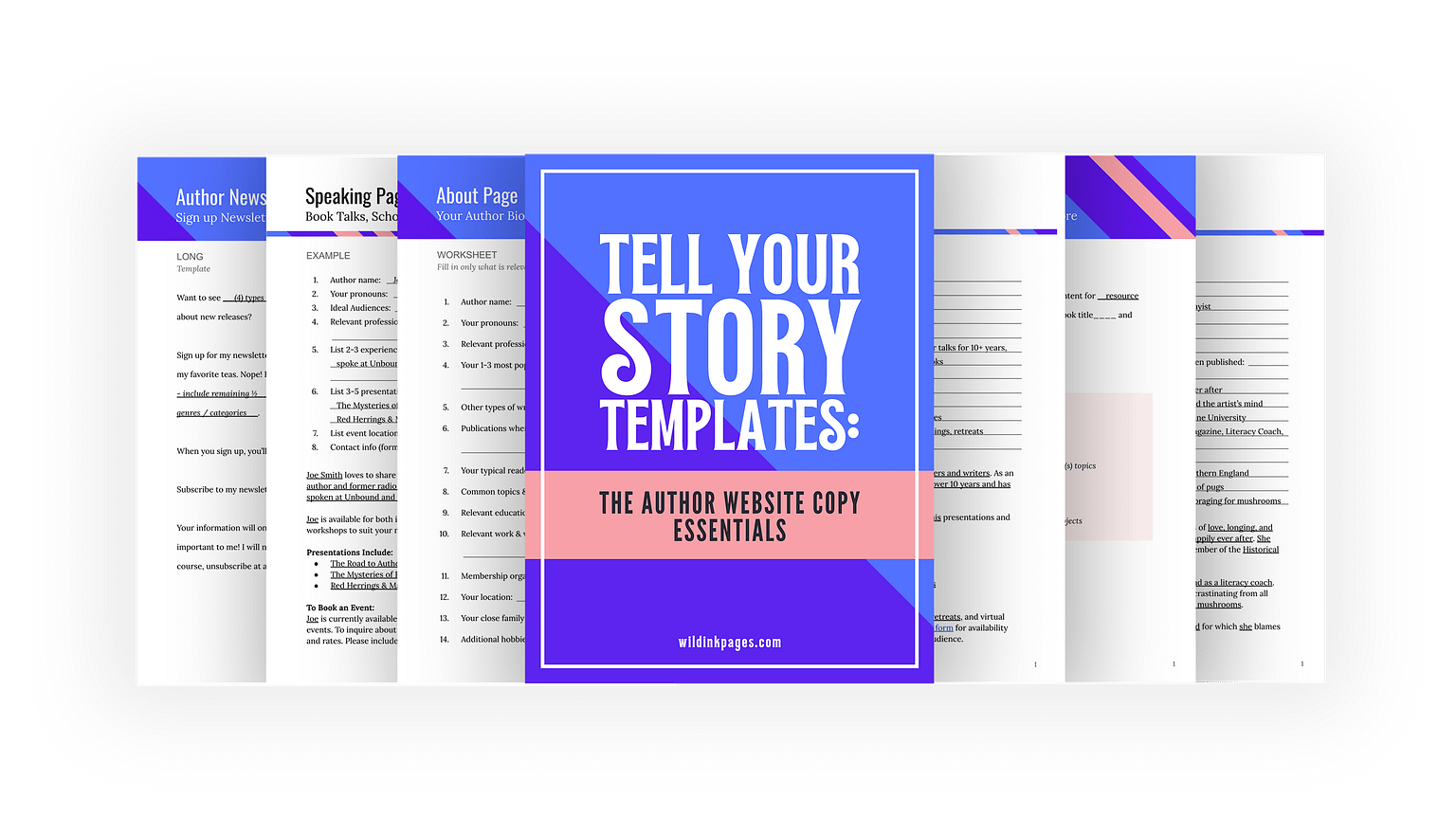 The Complete Templates for Every Page of Your Author Website
For All Writers: Published & Pre-Published

TELL YOUR STORY TEMPLATES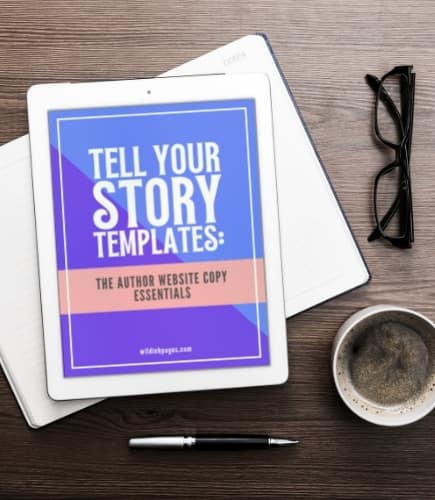 Tell Your Story Templates is your complete guide to writing every page of your author website. It is packed with fill-in-the-blank templates so you can mad-libs your way through each page, resulting in a website that is polished and professional.
Including scripts for both published AND pre-published writers, you can fill out your web content at any stage of your journey (and update it as your career grows). There are also alternative Serious and Spicy versions. With these templates, you'll be presenting yourself in the best light.
And with a guide this simple, it's never been easier to engage readers, grow your audience, and get your book into their waiting arms.
With these templates, you can mad-libs your way to a professional author website, no matter where you are in your author journey! Scripts include templates for both pre-published and published writers.
About & Author Bio Templates
No one likes writing about themselves… at first. This guide will take you from "staring at a blank page for 10 minutes" to "Hey, that only took 10 minutes!"
Speaking / School Visits Templates
Whether you're a professional keynoter or newbie – you want to get out there and spread your message in real life or virtually. A "speaking" page provides visitors will all the information they need to invite you to speak.
Press Kit Template
Want media attention for your books? Yes, of course you do!
Make it easy for the press to reach out and feature you. Your press page should share your media kit, instructions for contacting you, and a list (and links!) to everywhere you've been featured.
Extras / Resources Template
Readers and educators love to get the behind-the-scenes of their favorite books. Keep fans engaged by sharing deleted scenes, teachers' guides, activities for kids, or your research in the "Extras" page.
Newsletter Signup Templates
As a well-known industry secret, an author's newsletter is one of the best tools for building a loyal fanbase. Use this page to grow your newsletter list.
Contact Templates
If you want to book events or interviews, you need a way for visitors to contact you. Includes extra template options for side hustles like editing services and art commissions. 
Listen to What These Amazing Students Have to Say...
Thank you x 1 million!! Your author bio template has completely transformed how I think about my work! My old bio made me feel like a fake because I'm not published (yet). Now it feels genuine and actually highlights my work. I'm excited to use it!
"After my book deal was announced, I knew I'd have to start doing my own publicity and marketing work. But I had no clue how to start and what to do. Now I feel so much more prepared."
I've just booked my first school visit with someone I didn't know. All credit goes to the Speaking page you helped me create! The teacher complimented my website for being so informative about my creative writing workshops. She said it was easy to just pick the one that worked with her curriculum. Love your templates!
More than anything you have given me confidence to put myself out there and take control of my own success rather than hiding in the shadows and just hoping.
I was overwhelmed by just the idea of having a website, but Colleen's templates made it so easy. My website now represents my books professionally.
Wow, you have given me SO much more confidence already.
PLUS, YOU'LL BE BACKED BY…
A Ridiculous, 30-Day "Try It, Test It, Apply It" Money Back Guarantee
30-Day Money-Back Guarantee: I know your investment is precious and you want to receive maximum value for it—and I plan to deliver! I'm so confident that you will love Tell Your Story Templates that I offer a money-back guarantee.
If you are dissatisfied, I will refund your payment! You have 30 days from the time of purchase to request a refund. Just shoot me an email at colleen@wildinkmarketing.com to get your refund.
SECURE CHECKOUT
You can trust me!
100% SATISFACTION GUARANTEE
Risk free or your money back!
Hi! My name is Colleen
Every day, I help authors build their life-long careers through book marketing at Wild Ink. I've helped over 1,000 writers and illustrators build their fanbase and sell books.
With over a decade of experience in marketing, I teach authors how to use their passion to market their books with the readers who seeking those stories. Together, we walk step-by-step through book marketing campaigns, branding, author or illustrator platforms, media training, and book launches.
As a writer myself, I understand the challenges of balancing the art of writing with the business of selling books. Young adult and adult fantasy, mystery, and heist fiction is my jam, but I also freelance for magazines. I'm Co-Regional Advisor for the Society of Children's Book Writers and Illustrators (SCBWI) San Francisco North & East Bay and a committee member of the Bay Area Women in Publishing (BAWiP).
Great book marketing can not only sell more books, but it can also line you up for opportunities that can change a writer's career. I'm personally invested in your success. Together, we can give your books the attention and adoration they deserve.
Don't Miss Your Opportunity
Get it all during this limited-time sale for just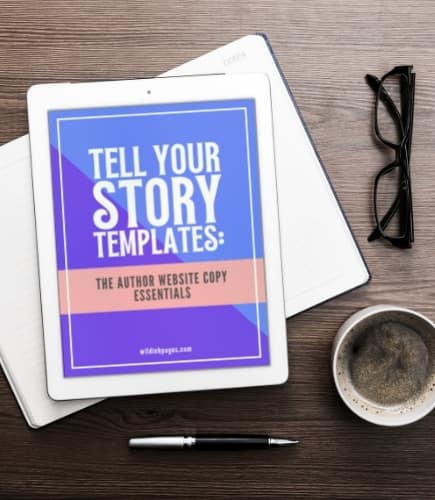 Get the Tell Your Story Templates PDF to guide you through the most important pages your author website needs.
+ + PLUS AMAZING VIDEO BONUSES + +