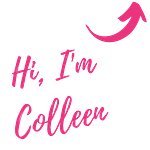 Fire Up Your Book Launch with Social Media
Get 100+ laser-focused social media prompts and learn EXACTLY what to post to build your audience and sell your books.
When it's time to promote your book, it can feel like you're totally alone. Where do you even start?
Most authors start marketing through social media. It makes sense. You're already on it to share bits of your life with family and friends. So naturally, it's the first place that you turn to in order to find your readers.
But how do you make that shift from just messing around on social media for fun to using it professionally to promote your books? And what do you post about? You're a writer! Not a social media expert. How do you even begin to reach an audience online?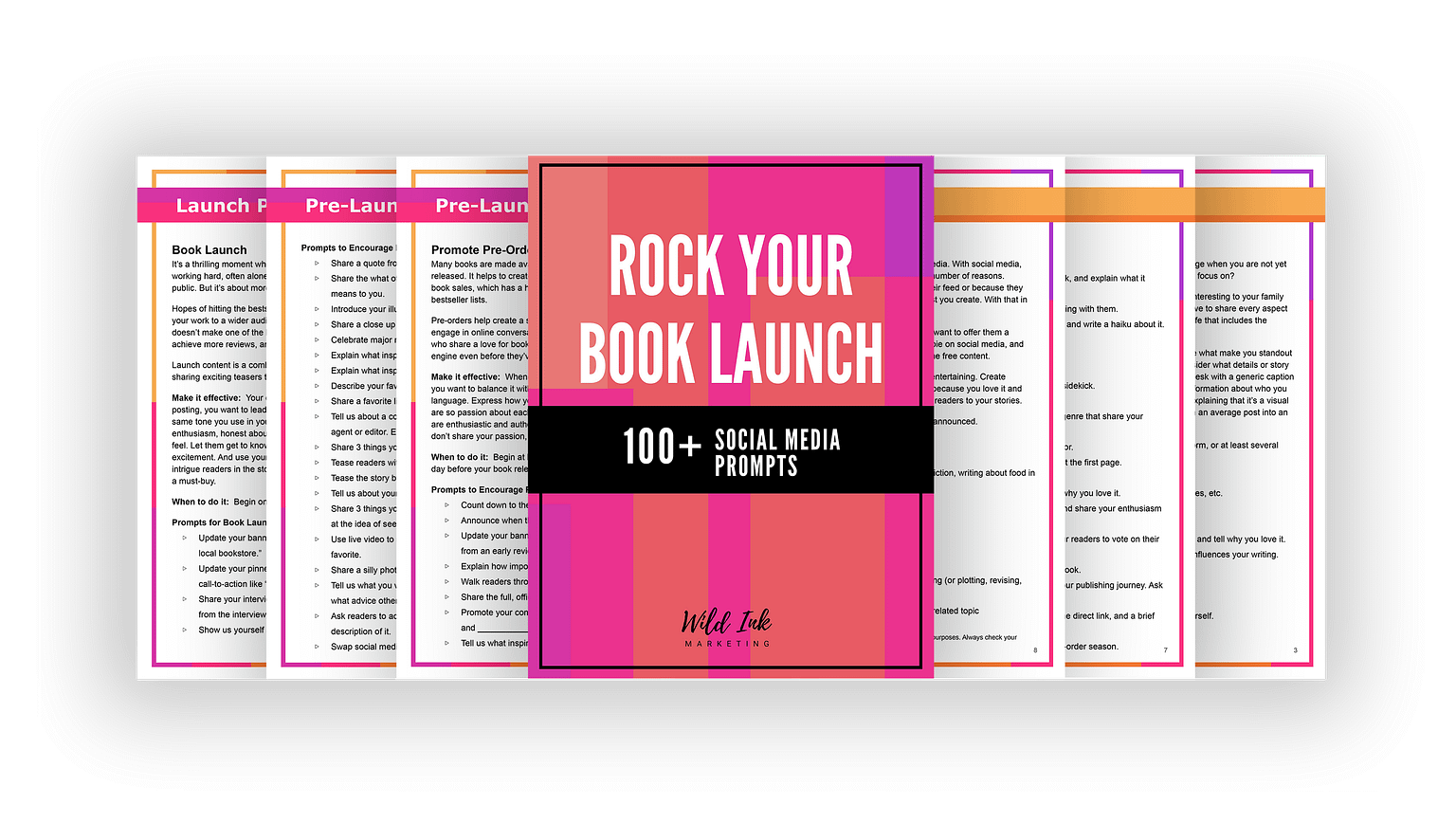 Over 100 Social Media Prompts for Launching Your Book for
Rock Your Book Launch is jam-packed with 100+ social media prompts for both your pre-launch and launch phases. These prompts ARE your social media plan—and with this plan, it's never been easier to engage readers, grow your audience, and launch your book into their waiting arms.
Organized into 5 sections, this pdf guides you through the social media posts you need to promote your book. You'll learn how to…
Getting to Know You
How do you build a fanbase when your book isn't published yet? Your unique personality and perspective are what make you standout online. In this section, you'll find prompts on how to connect with readers (and your fellow authors) over shared interests in writing, reading, and the fascinating hobbies that make you light up.
Introduce Readers to Your Unpublished Story
Just because your book isn't out yet doesn't mean you can't talk about it! Sharing behind-the-scenes content about your story is a great way to attract the right readers who are most likely to purchase and enjoy it.
Promote Pre-Order Sales
Many books are available for pre-order a few months before the book's release date. Pre-orders help create a sense of anticipation. Readers who pre-order typically share their excitement online through conversations about the book with the author (you!) and other readers who share a love for similar stories. They become a recommendation engine even before they've read the book! Prompts in this section show you how to engage those readers and trigger pre-order sales.
Convert Followers to Buyers
How do you convert social media followers to genuine book buyers? Some readers are willing to buy straight from a tweet or post, but there's no guarantee your audience will catch every one of yours. But you can use an email list to overcome this barrier. Offering a freebie in exchange for readers' email addresses gives you the opportunity to reach them from multiple angles (both social media and email!) when you want to invite them to fall in love with your book.
Launch Your Book to Excited Readers
It's a thrilling moment when your book is released. Years of hard work, often alone, finally pay off as your story is released to the public. Posting about your launch is about more than introducing your book into the world. Launch content is a combination of celebrating the achievement that is your book and sharing exciting teasers that intrigue readers to pick up a copy. In this section, you'll find prompts that help you intrigue readers and inspire them to finally pick up a copy of their own.
to take your social media to the next level.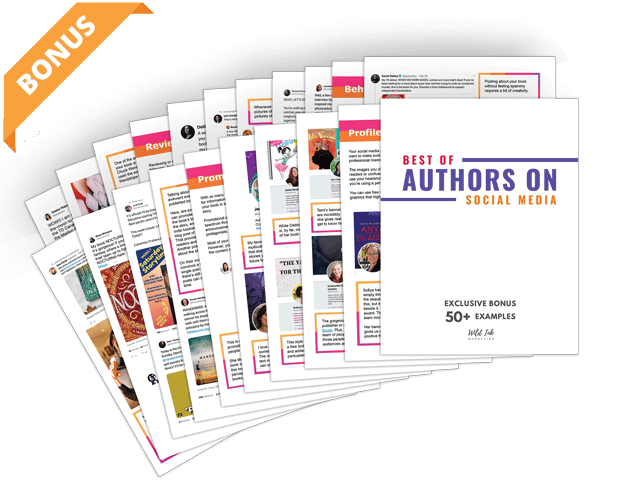 Best of Authors on Social Media: 50+ Examples (priceless)

This bonus PDF is jam-packed with 50+ fantastic social media post examples from some of your favorite authors. I've annotated each post with detailed explanations of how they engage readers, build relationships with their fellow authors, and promote their books with authenticity.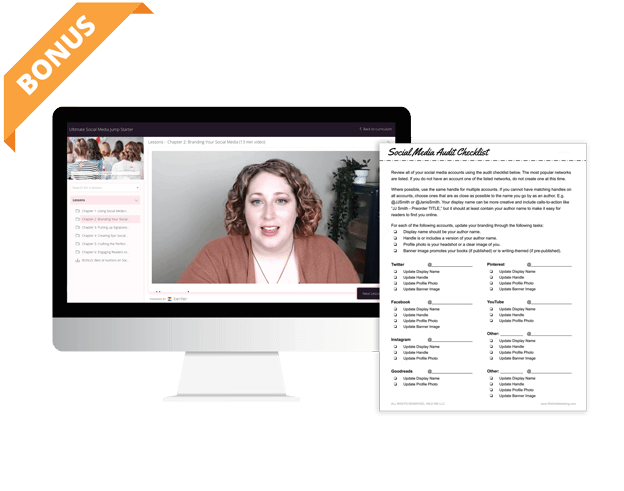 Ultimate Social Media Jump Starter ($37 value)
Learn exactly how to effectively use social media in your marketing strategy to connect with your readers and peers. In two brief video lessons, you'll learn how to build your author brand online and create a social media habit that fits your personality and schedule.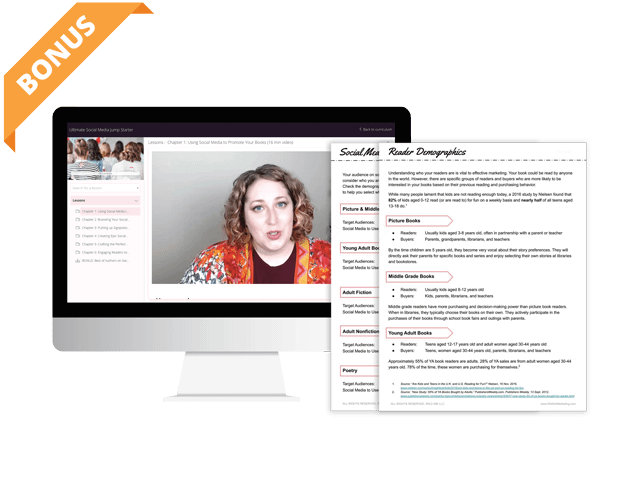 Signposts on Your Outposts ($27 value)
Trying to manage profiles on every social media network is time-consuming and creatively draining. In this brief video lesson, you'll learn how to effectively maintain active accounts and outposts to captivate your readers and promote your books.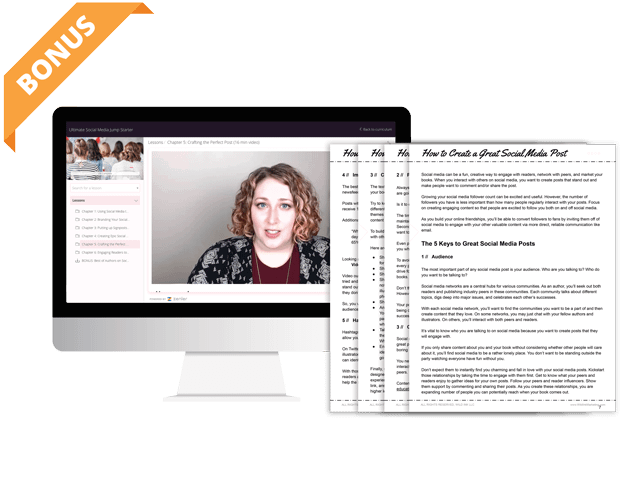 Create an Epic Social Media Bio ($37 value)
How you introduce yourself to readers, agents, and publishers can be the difference between being sought out online or utterly ignored. You want to represent yourself as both a legitimate AND a creative. Through this lesson, you'll create your unique, professional bio.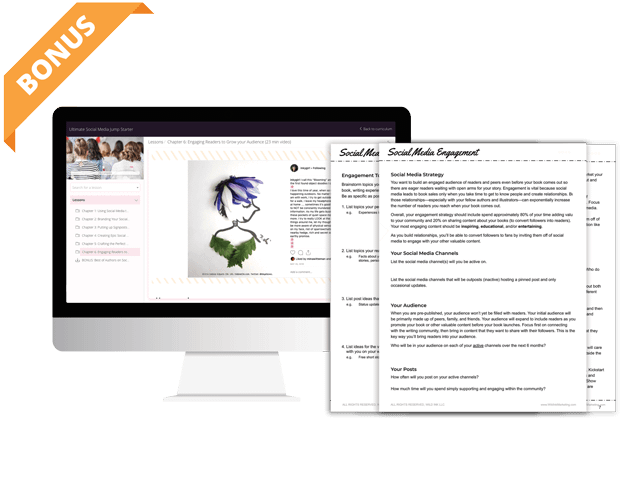 Promote Your Books & Engage Readers ($37 value)
Tired of posting and hearing only silence in return? There is an art to creating posts that captivate your readers and sell your books. In two short video lessons, you'll learn how to 'Craft the Perfect Post' and 'Engage Readers to Grow your Audience.'
Listen to What These Amazing Alumni Have to Say...
"After my book deal was announced, I knew I'd have to start doing my own publicity and marketing work. But I had no clue how to start and what to do. Now I feel so much more prepared."
It was such a relief to learn that I don't have to spend 15+ hours a week hanging out on social media in order to promote my work. I highly recommend taking this guide. You won't regret it.
Being prepublished, this was the perfect time for me to get this guide. It was fantastic to be able to learn and apply the steps without feeling pressured. Colleen makes it feel like you are having a conversation with a friend. Highly recommend!
More than anything it has given me confidence to put myself out there and take control of my own success rather than hiding in the shadows and just hoping.
This guide made me feel less alone in the big bad world of trying to get people to pay attention to my book. Colleen was always encouraging and engaging. She showed me how to be more effective using a marketing plan.
Wow, this guide has given me SO much more confidence already.
PLUS, YOU'LL BE BACKED BY…
A Ridiculous, 30-Day "Try It, Test It, Apply It" Money Back Guarantee
30-Day Money-Back Guarantee: I know your investment is precious and you want to receive maximum value for it—and I plan to deliver! I'm so confident that you will love Rock Your Book Launch that I offer a money-back guarantee.
If you are dissatisfied, I will refund your payment! You have 30 days from the time of purchase to request a refund. Just shoot me an email at colleen@wildinkmarketing.com to get your refund.

SECURE CHECKOUT
You can trust me!


100% SATISFACTION GUARANTEE
Risk free or your money back!
Hi! My name is Colleen
Every day, I help authors build their life-long careers through book marketing at Wild Ink. I've helped over 1,000 children's book, middle grade, & young adult writers and illustrators build their fanbase and sell books. 
With over a decade of experience in marketing, I teach authors how to use their passion to market their books with the readers who seeking those stories. Together, we walk step-by-step through book marketing campaigns, branding, author or illustrator platforms, media training, and book launches.
As a writer myself, I understand the challenges of balancing the art of writing with the business of selling books. I write MG, YA, and magazine articles. I am the Oakland and Berkeley area co-coordinator for the Society of Children's Book Writers and Illustrators and a committee member of the Bay Area Women in Publishing.
Great book marketing can not only sell more books, but it can also line you up for opportunities that can change a writer's career. I'm personally invested in your success. Together, we can give your books the attention and adoration they deserve.
Every day millions of readers discover their new favorite books on social media.
Don't Miss Your Opportunity
Get it all during my limited-time introductory pricing for just
Get the Rock Your Book Launch PDF guide with 100+ social media prompts that tell you EXACTLY what to post to build your audience and sell your books.
+  +  PLUS AMAZING BONUSES  +  +